2023-2024 Legislation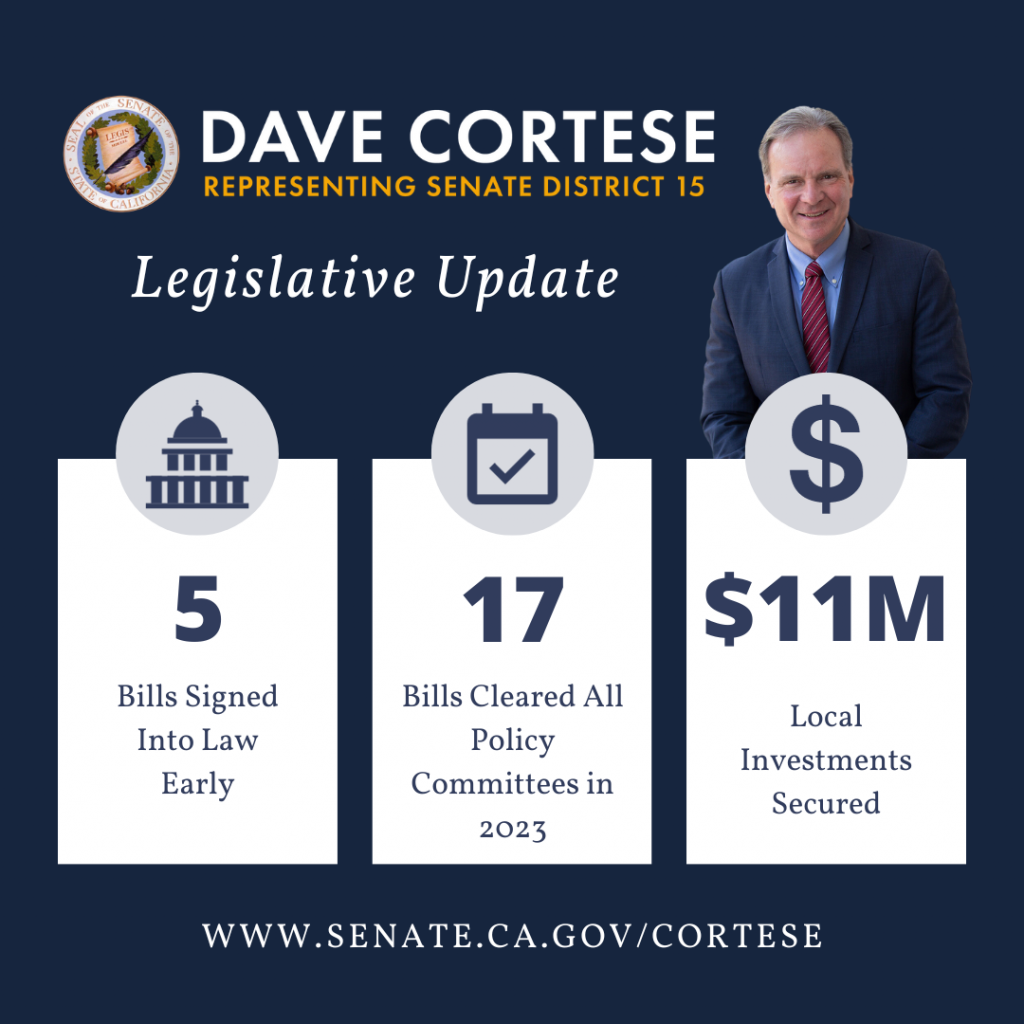 Legislative Update as of September 13th, 2023
Cortese's Requests Secured In The 2023-2024 State Budget:
 
Guaranteed Basic Income Pilot Program for Unhoused High School Students: 

The state budget provides $3 million to launch a guaranteed income program in Santa Clara County for 50 homeless students exiting high school. This program will help recipients transition into college or a good-paying job by providing a monthly stipend of $1,200 and various lines of support including financial mentors and peer mentors. The program is modeled after a successful 2020 guaranteed income program spearheaded by Senator Cortese that provided a monthly stipends for young people leaving foster care to help them transition into college or career. 


 
The Tech Interactive Field Trip Program Incorporating the Silicon Valley Kid's Climate Club: 

The state budget provides $3 million to fund field trips to The Tech Interactive, a Silicon Valley museum promoting hands-on STEM education with exhibits in areas like artificial intelligence, robotics, digital art, and environmental science. Around 100,000 students visit The Tech on field trips each year, and over half of them come through the Title I Field Trip Scholarship Fund for students in under-resourced communities. The Field Trip program will also include teachings from the "Silicon Valley Kids Climate Club," lessons and resources for teaching climate change created by Senator Cortese and scientific experts.


 
College of Adaptive Arts - Investing in Higher Education Opportunities: 

The budget provides $2 million to College of Adaptive Arts (CAA), which offers college-level education for adults with Intellectual and Developmental Disabilities, to expand its model to more college campuses. CAA's goal is to provide an equal college experience for individuals with disabilities that include autism, Down syndrome, and cerebral palsy, by teaching arts, wellness, and vocational skills.


 
Silicon Valley African American Cultural Center: 

The budget provides $3 million for the African American Cultural Center, a Silicon Valley community initiative to build the Silicon Valley African American Signature Project, a mixed-use development that includes affordable housing, a health clinic, a performing arts theater, a museum, athletic facilities, and retail spaces. 
Summaries For Cortese's Authored Bills In 2023-2024
Environmental Leadership
Criminal Justice Reform
SB 94 – Judicial Review of Old Sentences:

SB 94 would provide a 'second look' at Californians sentenced to death or serving life in prison without the possibility of parole by allowing these individuals to petition for judicial review on special circumstance offenses committed before June 5, 1990, after they have served at least 25 years of their sentence. (Contact: Hla Elkhatib)


 

SB 309 – Protecting Inmate Religious Practices:

SB 309 would create a uniform state policy providing clear guidelines that ensure the right to religious clothing, headwear, and grooming for all individuals in custody. Studies show that this form of religious exercise reduces violence and other negative behaviors in correctional facilities and lowers recidivism. (Contact: Hla Elkhatib)


 

SB 554 – Informal Discovery Conferences:

 This bill would enable trial courts to require civil litigants to participate in informal discovery conferences with the court prior to filing motions to compel further responses to discovery. Informal discovery conferences have been successful in many cases, saving time and money for everyone involved. (Contact: Hla Elkhatib)
 
Sexual Assault Prevention
 
SB 646 - Invasion of privacy: distribution of sexually explicit materials:

Child sex abuse material is rampant on social media. Too often, victims have no legal recourse for the online distribution of content depicting their abuse. SB 646 gives victims standing in state court by codifying a federal statute that enables legal advocates to bring cases against social media companies that profit or benefit from the distribution of child sex abuse material.

(Contact: Michael Haleva)
Housing Affordability
 
SB 405 – Housing Element Reliability:

SB 405 will help make housing elements more reliable by requiring planning agencies to do their due diligence in ensuring that the sites listed are actually viable. (Contact: Michael Haleva)


 

SB 406 –

Eliminating Duplicative Review for Affordable Housing:

SB 406 promotes affordable housing development without circumventing environmental review by extending to local governments an existing law that makes State financial assistance for affordable housing projects—but not the projects themselves—exempt from California Environmental Quality Act review. (Contact: Michael Haleva) - 

Signed into Law
Government Accountability & Transparency
 
SB 642 – Hazardous Waste Enforcement:

SB 642 will help protect the public from pollution and deter unfair business practices by giving county counsels full civil enforcement authority over hazardous materials violations. (Contact: Evan Fern) 

- 

Signed into Law
 

SB 335 - County of Santa Clara Critical Services:

SB 335 would grant the County of Santa Clara temporary authority to put an initiative on the ballot asking the voters whether they should raise local taxes to support vital County services.

(Contact: Michael Haleva)


 
Educational Opportunity
 
Public Health
 
Animal Welfare
 
SB 669 - Pets and Veterinary Services:

 

The national shortage of licensed veterinarians, coupled with consolidation in the veterinary care industry and the dramatic increase in payroll and supply costs, has disproportionally affected low-income and other underserved communities. SB 669 codifies California Veterinary Medical Board regulations and makes several changes that will empower veterinarians to delegate limited and specific tasks to registered veterinarian technicians to better serve low-income, underserved, and unhoused Californians. (Contact: Michael Haleva)
Economic Opportunity & Workplace Fairness
Youth Services & Safety
SB 9 - Raising the Age of Foster Care Act:

Sponsored by the California Judges Association, The Raising the Age for Extended Foster Care Act of 2023 will give vulnerable qualifying youth the ability to remain in the foster system. (Contact: Hla Elkhatib)


 

SB 10 - "Melanie's Law" - Opioid & Fentanyl Overdose Prevention Among Youth:

 Named in honor of Melanie Ramos, SB 10 will expand statewide prevention and education efforts, particularly on school campuses, to combat the skyrocketing overdoses and fentanyl-related deaths that have plagued youth statewide. (Contact: Tara Sreekrishnan)
 

SB 483 – Banning Dangerous Restraint Technique Against Students:

SB 483 would prohibit the use of "prone restraint", which physically or mechanically restrains students in a face down position. The U.S. Department of Education recommends banning the use of prone restraints, and 21 states have prohibited this form of physical restraint on all students. (Contact: Tara Sreekrishnan)