Senator Cortese's Legislative Holiday Mixer & A Local Toy Drive
Senate District 15 Legislative Holiday Mixer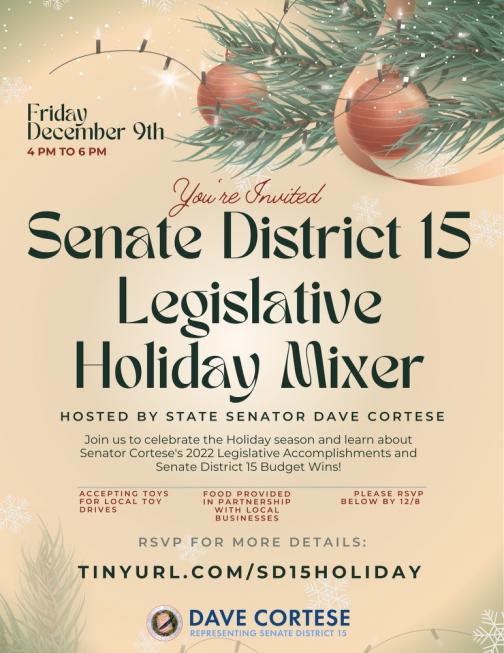 Join my Office this holiday season to celebrate and reflect on our legislative wins of this past year and to look ahead at what's to come in 2023.
WHEN: Friday, December 9th from 4:00pm – 6:00pm
RSVP: www.tinyurl.com/SD15Holiday
**Location provided upon RSVP
During this event, we will be providing light refreshments and accepting toys that will be donated to a local toy drive.
This year, I authored 12 bills that were signed into law, including legislation focused on student and youth wellness, protecting our older adults and retirees, ensuring pay transparency and gender equity, addressing workplace violence, and promoting an open and accessible democratic process.
In this year's 2022-23 state budget, I secured several local investments for Santa Clara County students and families totaling over $14 million that endeavor to educate and empower our next generation.
And this upcoming legislative session, I will continue my focus on meeting the needs of our children and families, and I look forward to the work ahead of us.
 
Holiday Toy Drive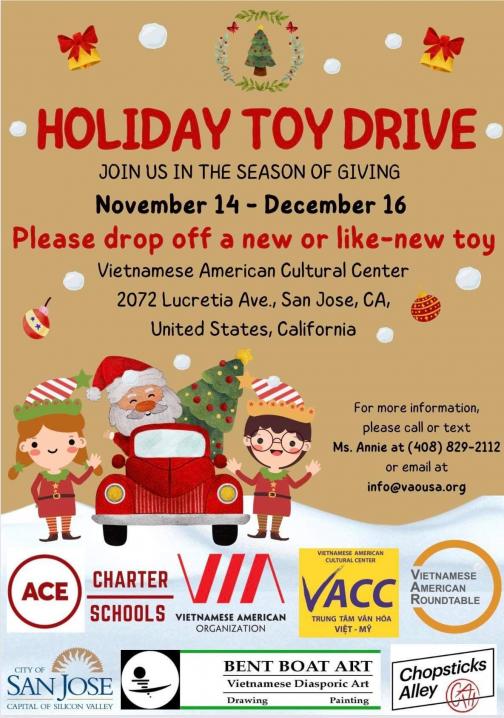 Local partners have come together to host a Holiday Toy Drive! You can drop off a new or "like-new" toy to provide a gift to a child in need.
WHEN: November 14th – December 16th
WHERE: 2072 Lucretia Ave, San Jose
FOR MORE INFORMATION: Call or text Ms. Annie at (408) 829-2112 or email info@vaousa.org